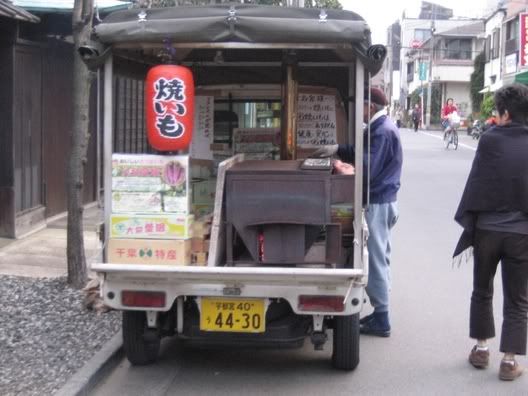 A sweet potato vendor?
Dear Family and Friends,
Thanks for the recipes that you all sent. We like to try different foods when we have the chance. Yesterday we rode past a member`s restaurant and she waved us over and then gave us a bunch of frozen meats. So in the near future we`re probably going to be eating a lot of meat and mashed potatoes.
So the past week in review since last Tuesday. Last Tuesday an English class student took us out to eat at a small restaurant, he payed for us. Afterwards on the way back to our apartment he asked if it would be alright for him to stop at a store and pick up something. We said sure. Well we went inside with him. He acted a little confused about where the bread section was and then grabbed a couple of grocery baskets and gave us each one and told us to grab whatever we wanted. We eached grabbed a drink and small treat. He then led us around the store pointing at stuff and saying `Do you like this?` `This is good` `Have you ever had this before?` and put one of the thing in each of our baskets he did this with mochi, sushi, milk, juice, chicken, eel, sashimi, and a few other things. Afterwards he had us wait at the front while he paid. He was a very tricky old man and knows how to get us to accept things we normally wouldn`t. That night we saw a baked sweet potato truck driving around with a gas stove fire in the back. It looked cooler than it sounds.
Friday evening the power in the apartment went out for a little bit for no known reason. While we were riding our bikes to the train station we saw two power trucks with sirens zooming towards our apartment. I think they went faster and got more respect from the other drivers than the ambulances seem to. I went on an exchange from Friday night to Saturday night. We started the exchange at 8:40 PM. Elder Ito and I were in the Okamachi apartment when I reached in my pocket and realized my bike key was in there. 1 minute later the phone rang, the other Elders had just realized the same thing. We rode our bikes back to the train station to meet the elders and give them the keys.
On Sunday there was a potluck to celebrate Maria`s baptism and a couple who just moved into the ward. The food was pretty delicious.Transfer calls are in one week and transfers are a couple days after that. I have no idea if I`ll stay or not.
Where do I do emails? There`s a small library/community center that has 2 old computers that can do email. It costs about $2 an hour.I still have 20 minutes for time about...
Here`s a random journal entry. My journal entries could definitely be better by I do have a journal entry for every day so far. I`ll see if I can manage that my whole mission. Better a little too short than none at all.
Thursday July 17, 2008
We met our teachers today. They both served missions in Japan about a year or two ago. They both seem like great teachers. We were taught how to pray in Japanese today so I`ll be striving to do that. There are 12 Elders in my district and I look forward to working with them.
Saturday August 9, 2008
Not much happened today. Though everyone is speaking a lot more Japanese. I managed to speak in Japanese for most of the day this time.
Wednesday September 17, 2008
Today was really good. The TEC went great today. We started off by singing `I am a Child of God`. We focused the entire lesson on God`s love. It was the best lesson yet.
Sunday January 11, 2009
Today was good and cold. Maria was confirmed in the Hanayashiki ward today. Maruyama was confirmed in the Okamachi ward. A random eternal investigator came to church today. He lives in a different area and I guess a member there said get baptized or stop coming :(. Well, he`s attending other wards at the moment. Dendo today went well. I was pretty genki and talked to everyone and it rubbed off on Elder Ashdown. We talked to one guy for a whole hour while my toes were freezing. I made apple pie tonight. It`s interesting how we ended up talking to the good contact. After making an appointment with the previous person we needed to write the appointment down but both of us had surprisingly forgot pens. We contacted the person by asking him if he had a pen we could borrow.
Monday January 19, 2009
Today was good. This morning we ate lunch with Eugene at Oto Shimai`s house. It was good. She made lasagna, salad, and soup. Afterwards we corrected a few pages of English for her. We biked around Kawanishi for a while and set up an appointment with someone for tomorrow. In the evening we streeted Ikeda. We talked to the baked sweet potato vendor for a while. He`s there every night until 7 PM and we talk to him relatively often. He gave us a free baked sweet potato. On the way home we bought 10 takoyaki for 200 Yen ($2) they were good.I resisted the urge to expound upon or change anything. That`s pretty much straight out of my journal. Until next time.
Sincerely,
Elder West.